Disclaimer
: The product/s mentioned below have been provided for the purposes of this review. No other form of compensation was received. Opinions expressed belong to Whirlwind of Surprises and are NOT influenced in any way. Please view my full
disclosure, TOS, and privacy policy
. Please take the time to enter my other
giveaways
while you're here.
So funny enough, before we were going to review this movie, I was all excited about it. However, my husband had heard from some others that it was confusing. So then, I was torn. I thought, is there any way that could be true of any Marvel movie? I had to give it a fair chance, right? So read on because I couldn't have been more pleasantly surprised!
Synopsis:
Marvel Studios' Eternals follows a group of ancient heroes from beyond the stars who had protected Earth since the dawn of man. When monstrous creatures called Deviants, long thought lost to history, mysteriously return, the Eternals are forced to reunite in order to defend humanity once again.
Trailer:
So, after the end of the last Marvel series, I truthfully feel it was a tough challenge to create a new superhero series. Hence, I do see why some may be confused.
This new Marvel Eternals cast includes Gemma Chan, Richard Madden, Kumail Nanjiani, Lia McHugh, Brian Tyree Henry, Lauren Ridloff, Barry Keoghan, Don Lee, Kit Harington, Salma Hayek and Angelina Jolie.
Overall, Eternals was pleasantly surprising. It was beautiful watching the medley of the cast, watching various races and people of all shapes and sizes being a hero, figuring out what it means to be good. Sure, there are plot twists and epic realizations...but at the end of the day, you see the beauty in humanity and what there is to fight for and protect.
We even enjoyed watching the various bonus features. Our favorite was learning about the scenes and filming and how they tried to use as much of the Earth's natural beauty and scenes as they could. Learning that Lauren Ridloff was a deaf actress was seriously mindblowing. We love how she serves as a great female role model. She is able to accomplish and show so much, both through herself as an actress and her role that it serves to show what people can accomplish regardless of what they may or may not be born with or without.
Plus...seriously, hard not to have a girl crush on Thena, strong female warrior, not without her own vulnerabilities yet displaces strength and grace.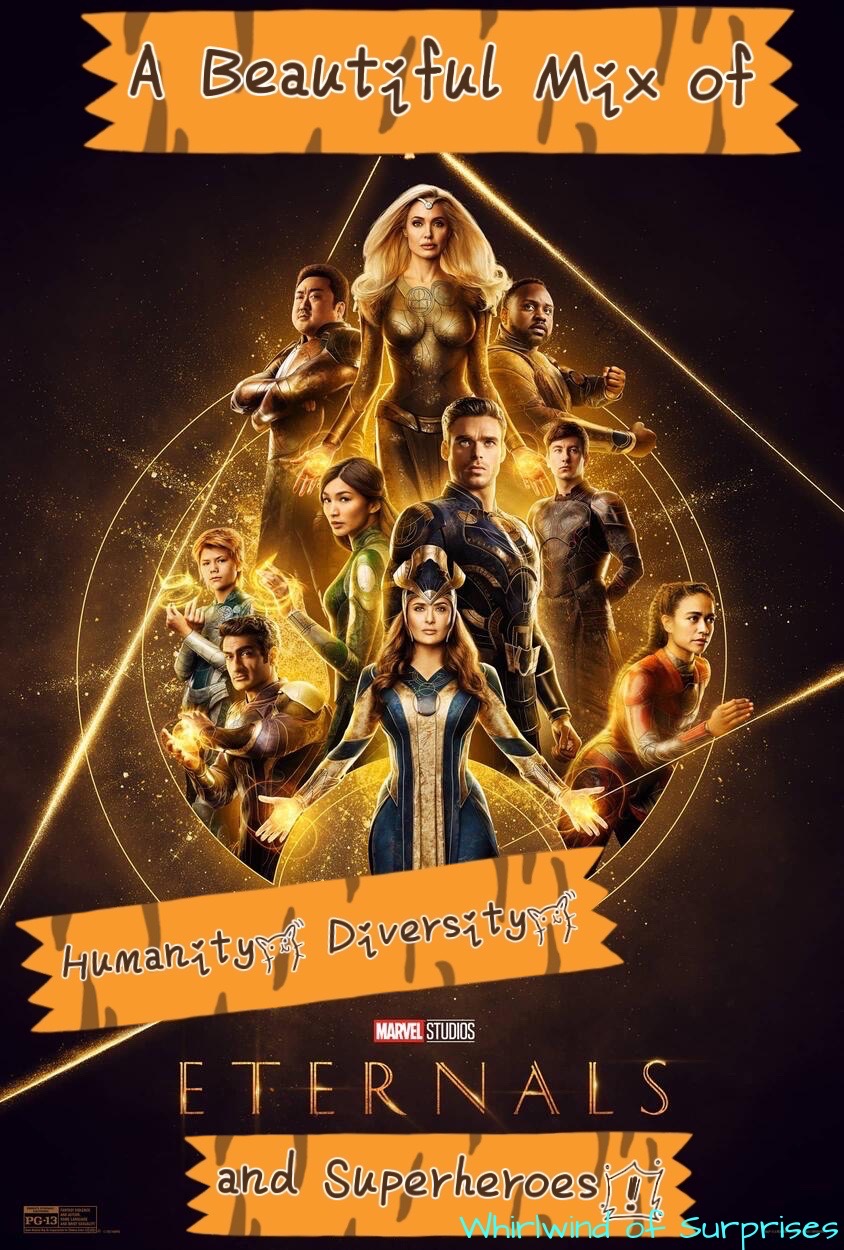 It's hard to choose my favorite part of this new MCU path, however I think it comes down to the diversity displayed and more Asian heroes, rather than Asians being displayed as the typical nerdy character.
Now available on Digital and will be out on DVD on February 15th, Eternals is worth watching not just for the values embued but also for the interesting start of a potential new MCU series.
Run Time: 157 minutes
Rating: PG-13
Facebook
||
Twitter
||
Instagram
Follow WOS:
@CinnyBBS
||
WOS on facebook
||
Pinterest
||
Instagram
Until next time,