Disclaimer
: No form of compensation was received. Opinions expressed belong to Whirlwind of Surprises and are NOT influenced in any way. Please view my full
disclosure, TOS, and privacy policy
. Please take the time to enter my other
giveaways
while you're here.
It has always been a challenge to find time for working out for me, given my full time job, a toddler, and so forth. I went from an exercise junkie -spending 1-3 hours daily at the gym to getting no exercise other than walking the dogs or playing with my kid. Before I knew it, I was aching all over and having troubles carrying my ever growing child. So, it was finally time to change and to go back at it. There are so many systems out there; how does one ever decide? The gym I previously went to had spin bikes. I rarely did those classes...in fact, I sucked terribly at them and was never a fan. Yep, if you had to say my husband was going to convince me a Peloton bike was the way to go just over a year ago, I'd tell you you're crazy. Well, a year down the road, I'm thinking it was a pretty good decision. Read on to determine if it's worth it and our coupon code for $100 off your purchase.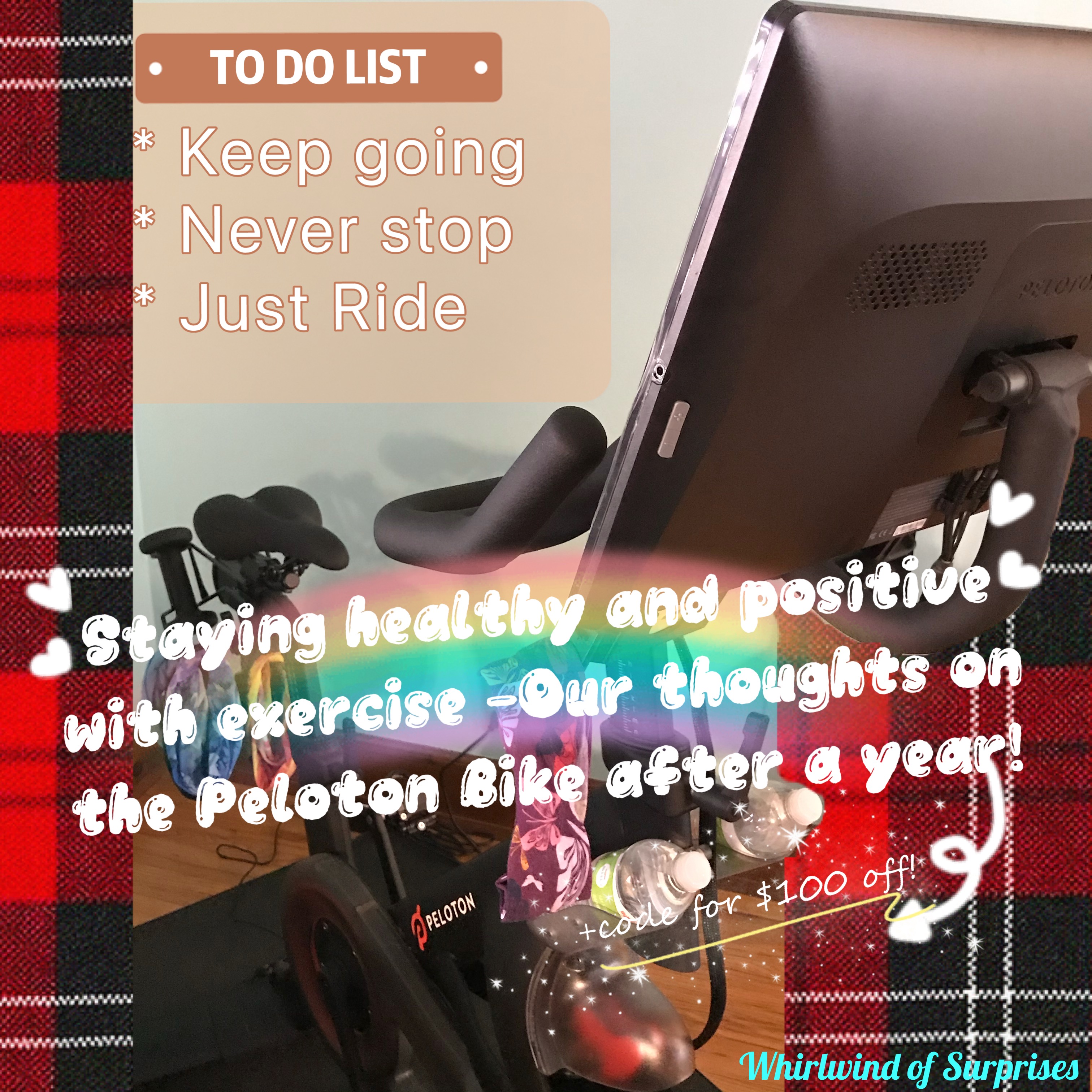 1) I love that I can work out when I want or rather, when I can sneak a work out in. It doesn't have to be terribly long but I make it work for me whether it be a 5-10 min class or a 45 min class.
2) There are live classes if you need it or pre-recorded classes that add to a library of classes that you can take whenever. I live and breath the library of classes, my schedule rarely works well with live classes. However, now that I'm not as much of a newbie anymore, I will do live classes once in awhile. Plus, it's kinda funny/encouraging how you get shout outs on milestones and therefore, immortalized on said work out library.
3) There is a variety of instructors. I certainly have particular instructors I prefer taking classes from.
4) It is not just spin classes. There's also yoga, strength, cardio, running, meditation, walking, and boot camp classes. I have enjoyed taking a variety of classes and in particular, typically combine a ride, strength, stretching, and yoga in my usual work outs. It's a nice combination and I enjoy being able to choose between different lengths and instructors as it suits me. There's even Family Fit Fun cardio classes that I love to do with my toddler. He has a ball with it and we all get to exercise together -instilling those healthy habits when they're young helps them stay healthy in the future!
5) It is an interesting community of riders. Though you're working out alone at home, you can ride the same rides as friends, both from real life and others through the Peloton community. At first, the high fiving was a bit too much for me. However, it has grown to become a source of motivation and pushes you to continue on during harder rides.
The truth - I've never liked spin classes, loathed it even but truely think that was because it was so much work and I sucked at it. However, as I started using my Peloton more regularly and I attempt to ride almost every day, unless I'm travelling/not at home or had a terribly long long day at work, I started loving it. You won't find me #1 on the leaderboard but there's no doubt I've gotten stronger. Though I'm not quite as "athletic" as my hubby, I still try my best and gosh I do love that sweat. Even on the days that I really don't feel like getting on the bike, I make myself do it and let the exercise endorphins do their thing midway through. It just feels good to be able to work out and not worry about my stresses for part of the day...to take the time for myself -self love and self care.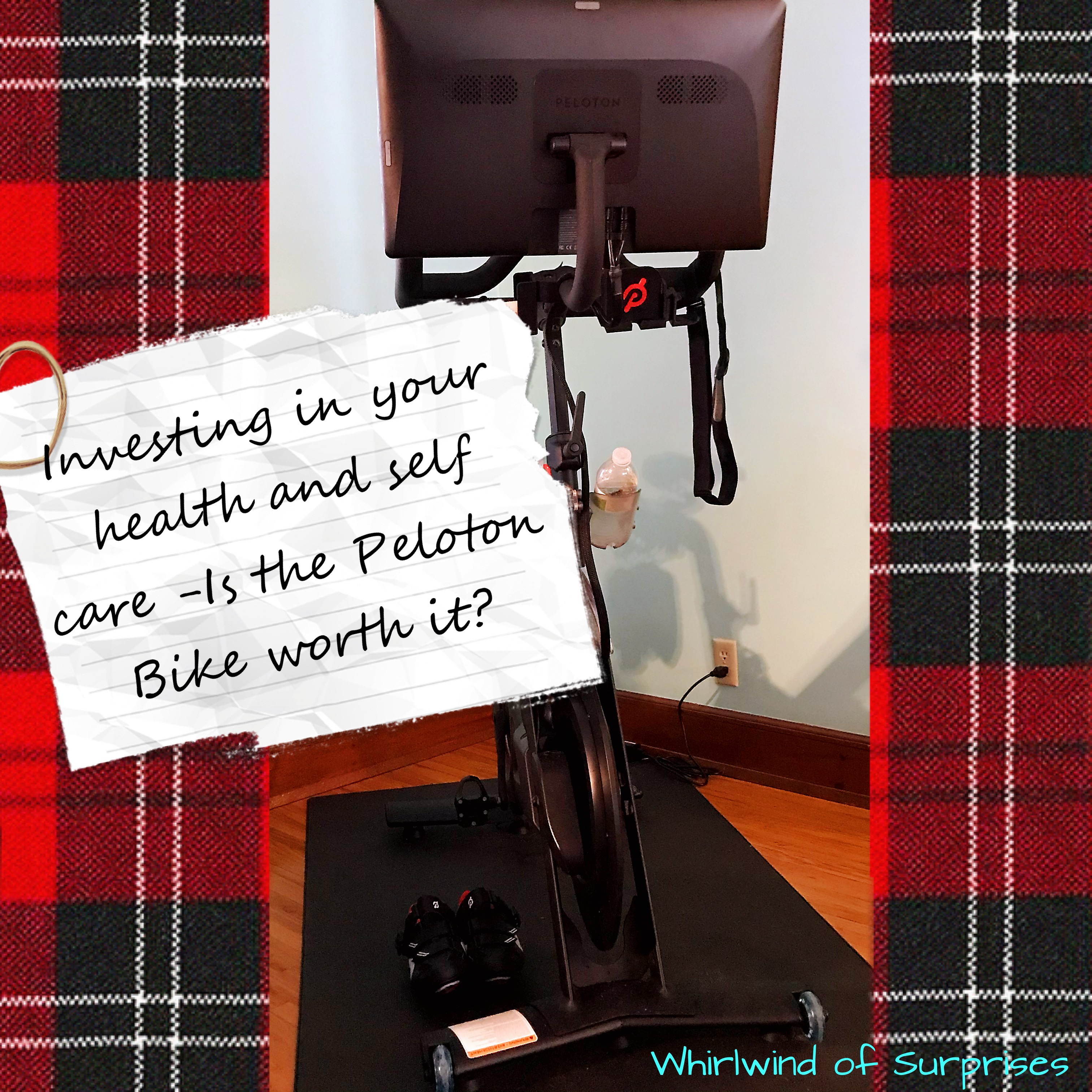 So I've told you a lot about the upside, what about the downside of Peloton?
1) Initial cost -The initial cost is the cost of the bike and then there's the monthly membership as well. Originally, the bike is $2245. The monthly membership is $39/month ($41.88 after tax). You still have to buy bike shoes that fit and weights unless you already have bike shoes or weights at home. Currently though, their
Peloton Black Friday sale
has the bike including delivery on sale for $1895. Through Peloton, the cost for a package with a bike, pair of shoes, weights and headphones are currently $2045 as part of their Black Friday sale. When I bought our Peloton bike, shipping was an additional $250. So yes, it's a pricy start, however you can do a payment plan and pay from $49/month. Logistically though, I paid $2788.14 for the Peloton bike, 1 pair of shoes, bike mat, headphones (which stopped working about 6 months in), 3 lb weights and a 12 month subscription. If you really calculate the numbers, that works out to be about $53.61/week that I'm paying or $7.66/day. So, really, depending on the number of classes I'm taking, it ends up being quite worth it. I'm only factoring in 1 person using it as well. With your membership, any of your household members can set up an account and use the bike and the classes so really, it ends up cheaper. Year 2, it's just the membership so about $502.56/year or $9.66/week. At the end of the day, it is cheaper than a gym membership.
2) Peloton Bike+: So, the reason for the Black Friday sale of the original Peloton bike is because they've come up with a new version, the Peloton Bike+. Unfortunately, I have not had the experience of testing it out but it seems that the screen is the biggest difference with the ability to rotate it 360 degrees. It also has a bigger screen and more speakers. It's a bit more expensive at $2495 delivered pre-tax and current Peloton Bike owners can trade in (i.e. purchase a new bike at $2495), get a $700 rebate and a free Yoga and Toning accessories package ($149 value) which includes a reversible work out mat, resistance bands, 2 yoga blocks and a yoga strap. It depends, do you want a bigger screen? Do you need more speakers or the ability to swivel your screen 360 degrees? While I think it's pretty neat, I sometimes cast my screen to my big screen to do yoga so I may not necessarily need a new bike for that.
3) Peloton bike shoes -We went with the Peloton bike shoes for ease and if bought outside of the package, they're $125 + shipping + tax, which essentially ends up right around the $150 mark. They're okay. There are other compatible shoes out there but really ends up being a $20-30 difference. The biggest difficulties we all had with the shoes was clipping out at the beginning. It gets much easier once you're used to the bike and it's worn in more.
We did a ton of research before we bought our Peloton bike. My verdict is that is well worth it. The Black Friday/Cyber Monday sales are always their best sales from what I researched and honestly, is a good time to pick up the original Peloton Bike at it's currently discounted rate. If you found my review helpful, please consider using my referral code
XNXG48
. Well, what do you think? If you do end up getting a Peloton Bike, let me know how it goes for you! Have a safe and happy Thanksgiving! I am certainly thankful for my family and health.
Full disclosure: Use of my referral code/promotion code/promo code gives you $100 off your purchase and I will also receive $100 credit to spend in the Peloton store. Peloton does not allow sales to be combined (i.e. it can be used on the Tread or the Peloton Bike+ currently and on the Peloton Bike when not on sale) but the use of my promo code would be appreciated if you found my post helpful.
Until next time,