Disclaimer
: The product/s mentioned below have been provided for the purposes of this review. No other form of compensation was received. Opinions expressed belong to Whirlwind of Surprises and are NOT influenced in any way. Please view my full
disclosure, TOS, and privacy policy
. Please take the time to enter my other
giveaways
while you're here.
When you have a full-time professional job plus 2 fur babies and an actual infant, life is chaotic. That translates into a lot of caffeinated products and the occasional glass of wine. Unfortunately, for my teeth, that translates into stains and less-than-perfectly white teeth. Yes, I have an issue. Beyond the fatigue, constant neck and back pain, and love, I happen to cherish my dental health as well. So when the Smile Brilliant team reached out promising that I could have whiter teeth in just 1 week, I decided to give it a go.
Smile Brilliant
is a family-owned company that provides professional quality teeth whitening to those who want to take care of their teeth in the comforts of their own home. I happen to be one of those people who fortunately have regular dental care but also strive to protect my teeth at home as well. So, we're quite the fit! Gosh, without good dental care, I can only imagine what my coffee, tea, and wine would leave on my pearly whites. When I look at my mug that I keep at work with all the lovely tea/coffee stains despite daily washes, you can only imagine.
So, a bit of background about my usual dental care before we move into this review. I typically use an electric toothbrush, so I'm no stranger to the electric toothbrush market. The
cariPRO™ Ultrasonic toothbrush
and two premium replacement heads (valued at $119) offers something slightly different than the typical electric toothbrush.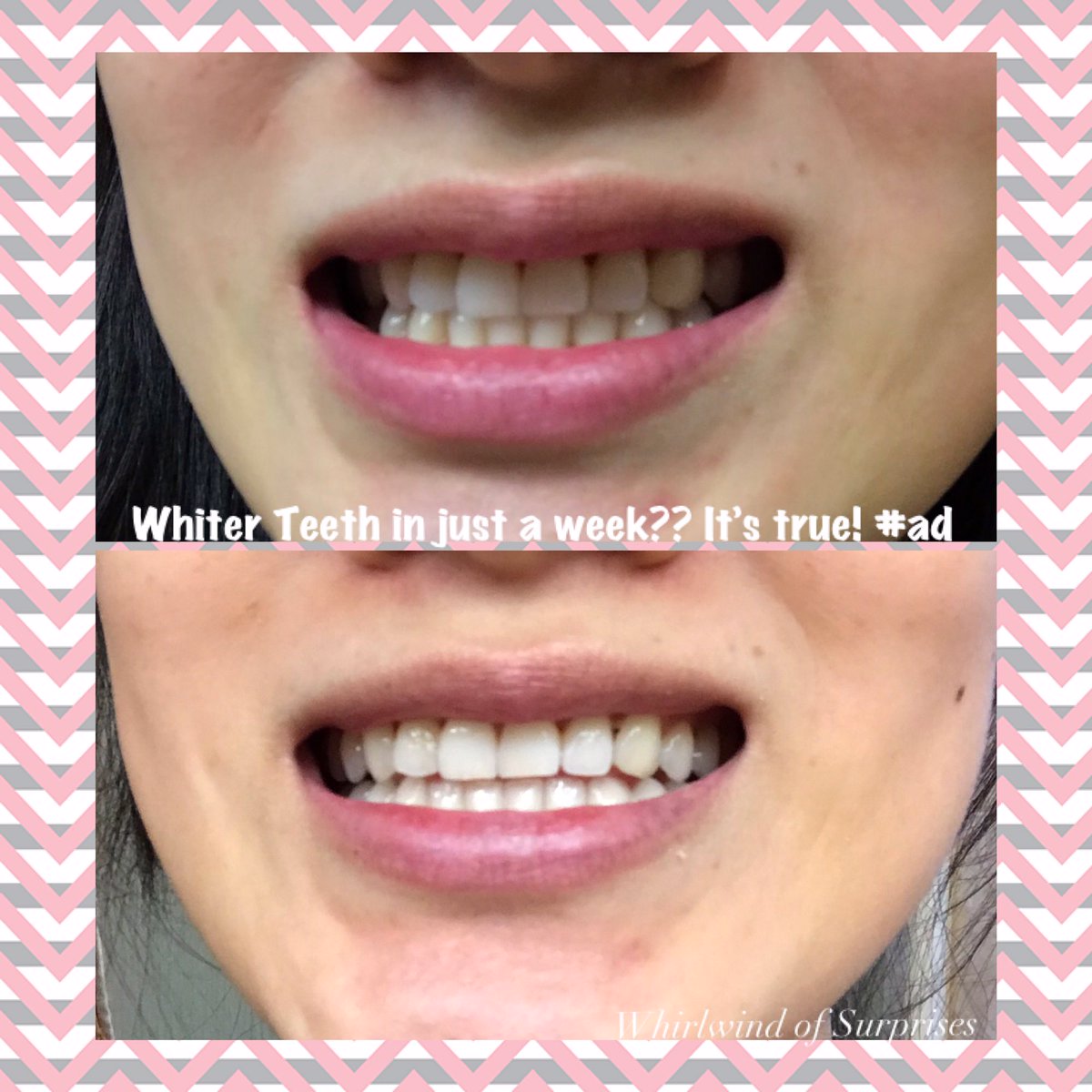 Specs:
40,000 vibrations / minute dynamic cleaning action
5 brush modes (clean, white, massage, gum care, sensitive)
30 day battery life (on full charge)
Ergonomic slim design with graphite gray soft-touch grip
Waterproof design is safe for shower or bath (3 feet of water for 30 minutes)
Auto-interval smart timer for even & timed brushing
Wireless charging dock
Electric toothbrush head sketch 2 Premium Brush Heads with Tongue Scraper
Angled and tufted DuPont™ bristles
Graphite gray with vibrant blue silicon exterior
100-240v ~ 50/60Hz (works internationally)
No exposed metal (charges by setting brush on dock)
Full 2-Year Warranty
The toothbrush heads were surprisingly soft. So soft, actually, that I wondered if it would be able to clean as good as my current electric toothbrush. Even the clean mode seemed a bit too gentle. Surprisingly, it left a nice, clean feel on my teeth and did a great job. The massage function was gentle and comfortable, while the gum care mode was a timed pulse. Whether or not that helped with my gum health, we'll have to wait for my dental appointment to find out. The toothbrush itself was easy to use and I appreciated that I didn't have to charge it on an almost weekly basis. The other bonus for me is that the cariPRO™ works internationally, which means I can bring it with me when I travel. However, it'd be nice if it came with a travel case though. I like that it buzzed every 30 seconds to remind you to switch quadrants and shut off after 2 minutes. Personally, I feel that my teeth did whiten a little after a week. What do you think? Check out Smile Brilliant and get
20% off cariPRO Ultrasonic Electric Toothbrush with code "whirlwindofsurprises20"
.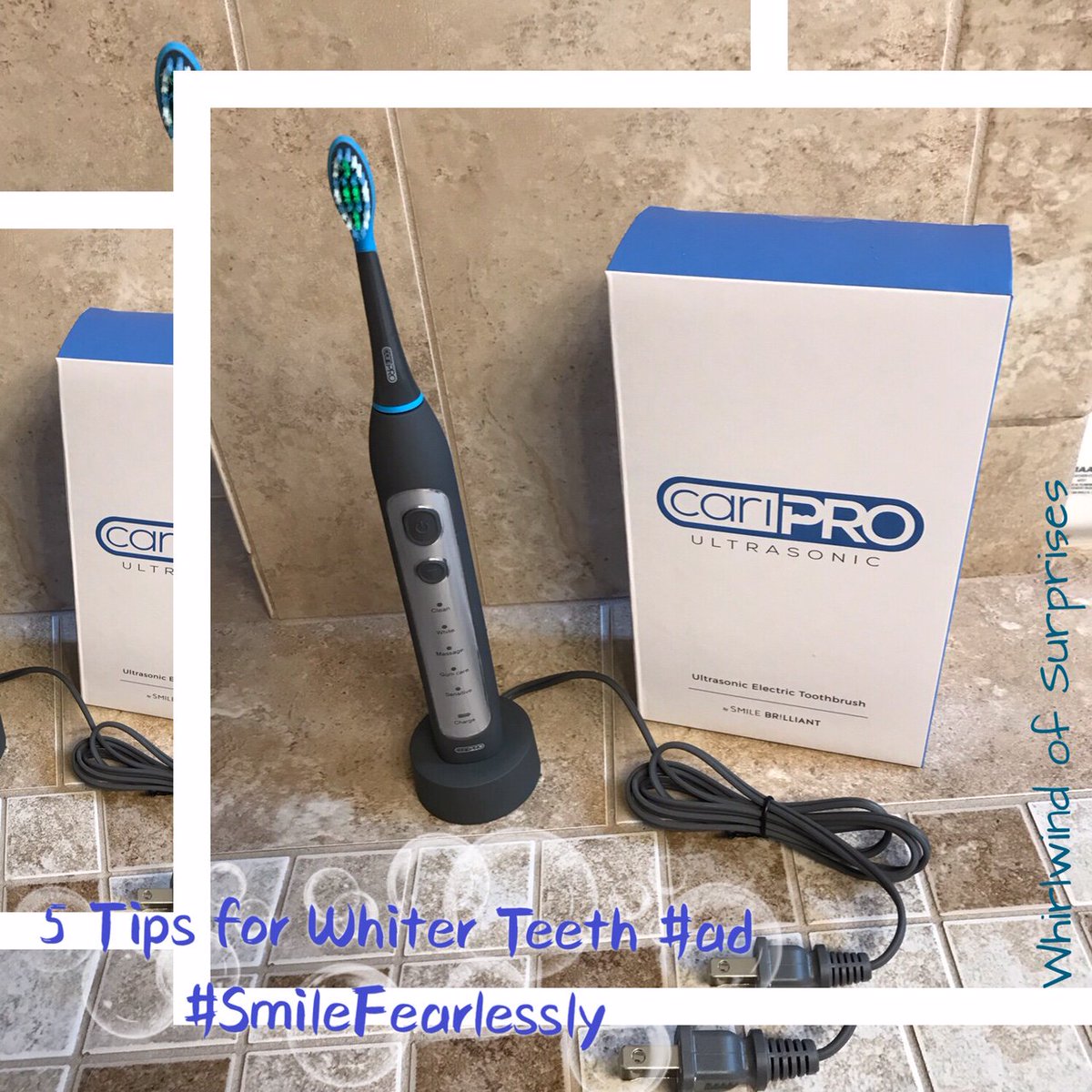 5 Tips for Whiter Teeth
1) Limit the coffee/tea/wine that you drink. If not, rinse your mouth immediately afterwards.
2) Brush and floss regularly.
3) Certain foods like apples, pears, carrots, and celery will trigger saliva which help to wash away food debris. Saliva will also neutralize the acid that causes tooth decay.
4) Home whitening products such as baking soda.
5) Use the whitening toothpaste and toothbrushes such as cariPRO™ Ultrasonic toothbrush.
Smile Brilliant also guarantees results so if you don't feel that it's performing after a 60 day trial, you can always return it! We always think, well, it's a great electric toothbrush, so what's the catch? Are the toothbrush heads going to cost a ton? Surprisingly not...a
2-pack replacement head is $13
, 4-pack is $23 and 8-pack is $43. Pretty reasonable, actually. We'll even start you off with your very own cariPRO™ Ultrasonic toothbrush and two premium replacement heads (valued at $119) from Smile Brilliant. Open to the US, 18+. Enter until May 08, 2019 11:59PM EST. Good luck!
cariPRO Electronic Toothbrush US 18+ 4/8/19
Stay connected:
Facebook
||
Twitter
||
Site
Follow WOS:
Google+
||
GFC
||
@CinnyBBS
||
WOS on facebook
||
Pinterest
||
Instagram
Until next time,