Disclaimer
: The product/s mentioned below have been provided for the purposes of this review. No other form of compensation was received. Opinions expressed belong to Whirlwind of Surprises and are NOT influenced in any way. Please view my full
disclosure, TOS, and privacy policy
. Please take the time to enter my other
giveaways
while you're here.
We truly live in a world where almost anything is possible. Who would've thought I'd have a custom patch of grass on our patio for the pups. As you know, JR is quite the clean pup. She despises being out in the snow or rain. It's rather adorable when she limps through puddles because she hates getting her paws dirty. Her baby brother, BabyPom though, is the complete opposite. He will bound through the puddles and snow as if they weren't there at all. They step home and what happens next is the usual shake down of mud and grime splashed everywhere. It's a nightmare, if you ask me!
DoggieLawn
offers a potential solution.
You know, we have subscription boxes for just about anything and now we have it for patches of grass made for indoor, porch, garage, or balcony use, otherwise known as DoggieLawn. DoggieLawn offers hydroponically grown grass that is soil free so no tracking dirt it. It's also meant to weigh more than one half as much as standard sod for easy lifting.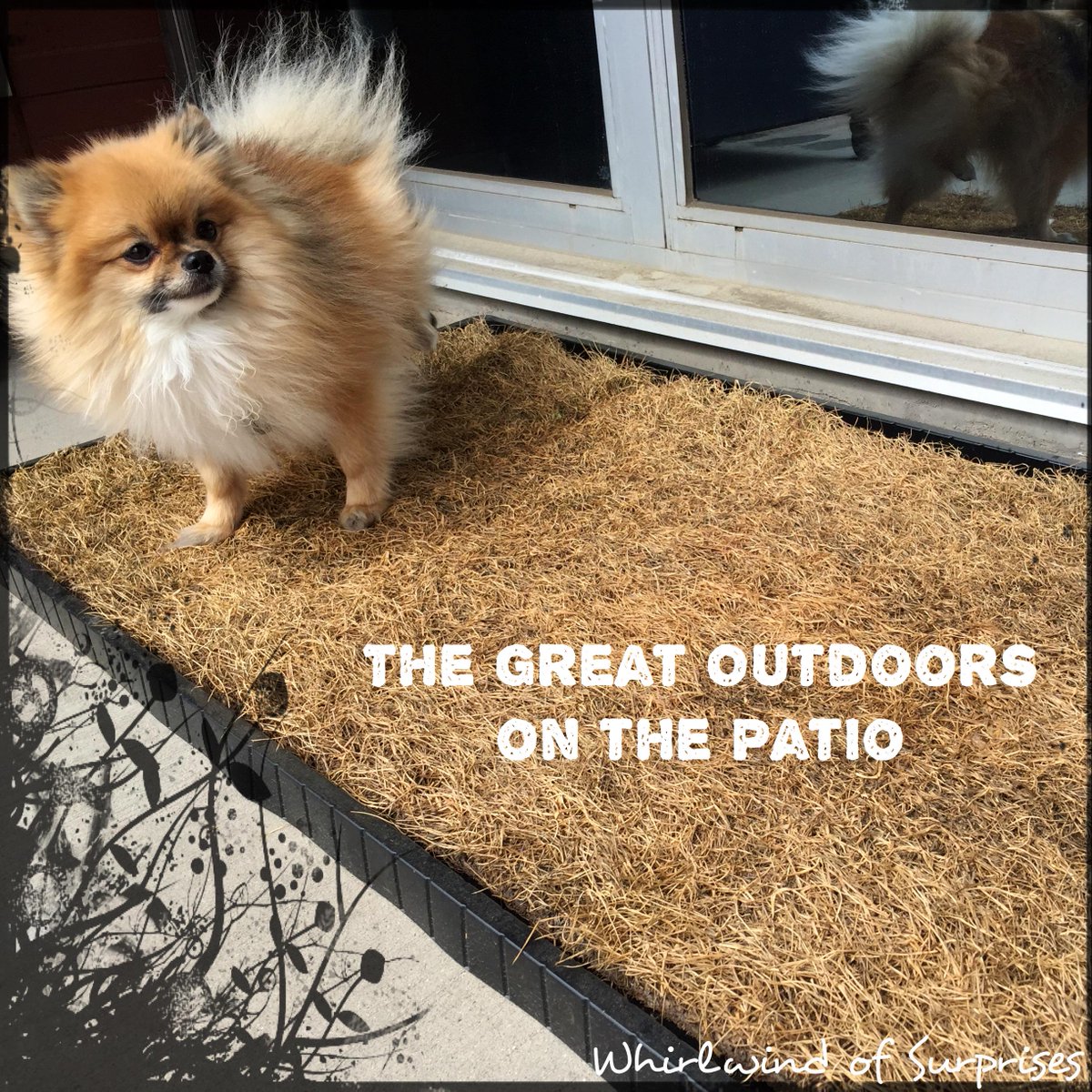 The care is fairly straight forward. Spray with a water bottle lightly every 1-2 days and well, pick up pet solids like you would when walking them outdoors. They even included a tip to add a few squirts of dishwashing soap or peppermint oil with water in a spray bottle and apply to the grass to avoid flying bugs. This is much easier than the typical artificial/fake grass that requires weekly washing.
The subscription works via 2 sizes and 2 delivery options. They have the regular size patch and the DoggieLawn Plus for larger dogs with delivery 1-2 times per month ($28/39-$48/60), with the option to increase per your own preferences. The tray the grass goes in is sold separately.
Having used the DoggieLawn for almost a month now, here are our thoughts on the product:
Pros
-Love that we don't have to go out when it's a rainy day and JR & BabyPom can still relieve themselves on a grass patch.
-BabyPom looks forward to using the patio patch and hangs at the door occasionally.
-No dirt/tracking of residue inside from the patch.
-Convenience of delivery
-Only have to water every so often
-Urine absorbed by the grass is broken down by the natural and harmless microbes found in grass.
-There's no odor unlike the indoor wee wee pads.
Cons
-Despite being lighter than sod, it is still fairly heavy and required quite a bit of effort to lift.
-To my disappointment, my tray was shipped
damaged
to me. I attempted to contact the company and never received a response, which docks them major marks on customer service. They never even attempted to respond.
-The tray is a fairly flimsy, light piece of plastic.
-To dispose of the grass patch, they say to toss it in the garbage, however in an apartment setting, it can be difficult trying to carry such a heavy item to the chute and fitting it in there.
-The grass really wasn't as green as all the images showed, it more looked like yellow/dried grass.
Overall,
DoggieLawn
is a great idea and I love the ease of the system. The dogs seem to adore it too. However, the price is a bit more than I'm willing to spend and the lack of communication/customer service is something that leaves a bad taste in the mouth.
Follow WOS:
Google+
||
GFC
||
@CinnyBBS
||
WOS on facebook
||
Pinterest
||
Instagram
Until next time,