More make-up?! Yep! You can still use this one for everyday use or going out! I was sent L'Oreal Paris' newest eye products, Double Extend Eye Illuminator Mascara and The One Sweep Eye Shadow for review. These two products are very unique and I absolutely ADORE the fact that they are personalized to your eye color. I have brown eyes and so there's a color uniquely designed just for my brown eyes and I! I received "Playful for Brown Eyes" eye shadow (how cute is that?) and Black Quartz Mascara.
The Playful for Brown Eyes L'oreal Paris The One Sweep Eyeshadow (MRSP $9.95) comes in beautifully matched colors that you apply with just one applicator that gives you a stunning, professional look. You could apply less shadow for a day look or more for a sexy, girl's night out look. It was so pretty that I really didn't want to take it off. The trick is to blend upwards and keep the darker shade along your lash line. It was so easy and the effects were fabulous!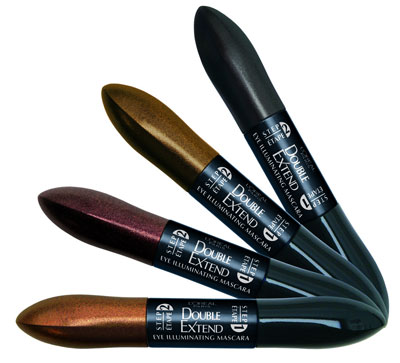 The Black Quartz L'oreal Paris Double Extend Eye Illuminator Mascara (MRSP $10.95) is something that I desperately need. If you look at my pics, you can see that my eyelashes aren't really outstanding at all...if you can even see them, that is. The results I got from this product was just amazing. My lashes looked so much longer and they were actually noticeable! Beyonce is no longer the only one with hot lashes! Its a 2-step process that starts with a black mascara basecoat which is infused with a hint of color to intensify and lengthen lashes. The second step is an illuminating topcoat which has light-reflecting pearls to enhance your eye color. This topcoat can be applied just at the tips of your lashes for an everyday look or throughout your lashes for a more dramatic look before you head out for the night. Oh, and I almost forgot, this mascara did not smudge! That's really important for me as I smile with my eyes...so too often a time, does my mascara get smudged underneath my eyes and viola, the panda arrives!
Both products were absolutely great! .
The good: Unique, easy, but professional looks for your eye color! Gorgeous colors and innovative products make for beautiful results!
The Bad: I didn't really have anything to say about the bad for these products. If I really had to say something, however, the color for the eye shadow didn't show up very much on one brush, it took several brushes before I got some color to show on my eye lid.
Disclaimer: I am a BzzAgent. The product/s mentioned above have been provided free of charge from BzzAgent and the manufacturer or PR firm for the purposes of this review. Opinions expressed belong to Whirlwind of Surprises and are NOT influenced in any way.
Like what you see? Follow me on GFC and
twitter (@CinnyBBS)
to get the latest updates. Like us on

facebook

or join us through

Network Blogs

. Leave me a comment if you'd like me to follow back on any of these