Disclaimer
: The product/s mentioned below have been provided for the purposes of this review. No other form of compensation was received. Opinions expressed belong to Whirlwind of Surprises and are NOT influenced in any way. Please view my full
disclosure, TOS, and privacy policy
. Please take the time to enter my other
giveaways
while you're here.
If you've been around the blog long enough, you'll know my family and I are suckers for based on true story movies. I have no idea why but there are just something about those films that tug at the heart and makes you root for the characters in them despite knowing that it's already happened. Now I'm no crazy football fan but I still enjoy those movies. Given Super Bowl just ended, this seemed like the perfect time to introduce our readers to American Underdog.
American Underdog is based on the inspirational story of two-time NFL MVP, Super Bowl MVP, and Hall of Fame quarterback Kurt Warner. The funny thing is I admit I know almost nothing about football heroes and stars but my hubby knew exactly who Kurt Warner is, or at least, some of his story.
American Underdog, available February 22 from Lionsgate® on 4K Ultra HD Combo Pack, Blu-ray Combo Pack, DVD and On Demand really commanded attention. First of all, we all love a good underdog story but this seems to feature yes, the main Underdog but also others in the film who are fighting their own battles. The film stars Zachary Levi, Anna Paquin, Ser'Darius Blain, and Dennis Quaid.
The storyline is pretty amazing when you realize what Kurt Warner has gone through to become who he is. He went from stocking a grogery store to a well-known MVP, Super Bowl Champion and a Hall of Fame quarterback. He went through years of challenges and setbacks but perseveres not only in his love life but also in his professional career to make it and prove to the world that he is who he set out to be.
Check out the trailer:
The underbelly of the story also shows the challenges of financial hardships, a love surviving it all, and heck, we rooted even for Zach overcoming his challenges to grow as a person. The movie initially felt like it started a little bit slow, however it quickly picked up and became an actual story that you felt immersed in...feeling what Kurt and Brenda were going through during their times and challenges together.
I hadn't even heard of arena football prior to this, however I have to say I'm also not surprised it's a thing. Faith, family, and determination were strong themes throughout this movie and it really was quite inspiring to watch. My parents who really don't watch much in terms of football at all were quite riveted by the storyline.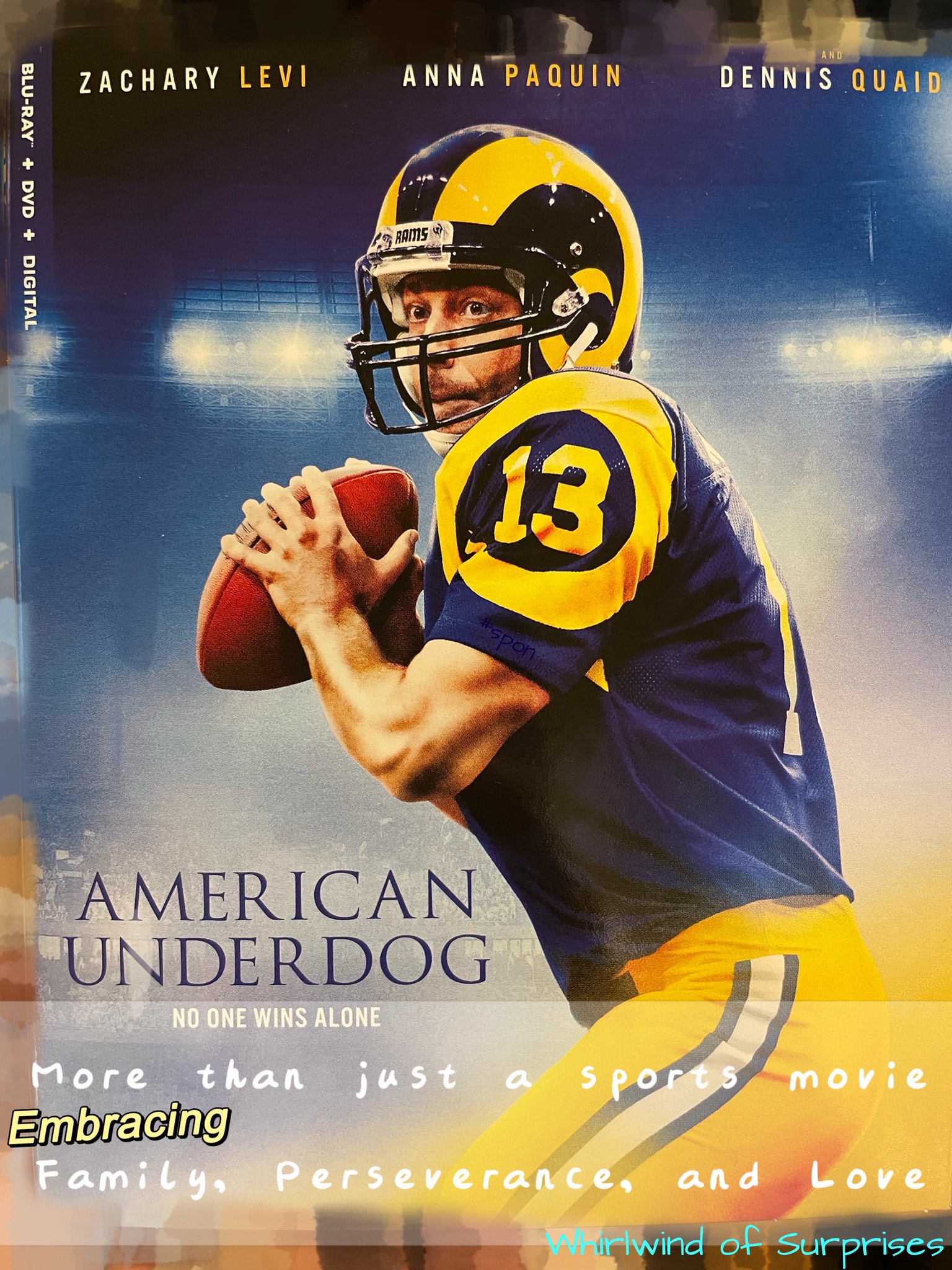 The American Underdog is quite the film to watch for any football or based on true story fans! We were rooting for the family the entire time, facing disabilities and setbacks, yet never giving up on each other. Simply said, it warms the heart. I particularly enjoyed that it wasn't a story just revolving around the main character. It also included and embraced the multi-faceted aspects of his life and perhaps, his grounding point and source of strength and perseverence, his family.
4K ULTRA HD / BLU-RAY / DVD / DIGITAL SPECIAL FEATURES include:
-Audio Commentary with Directors Andrew and Jon Erwin, and Producer Kevin Downes
-"Inspired" Featurette
-"Making the Cut" Featurette
-"A Coach's Faith" Featurette (on 4K and Blu-ray™ only)
-"New to the Scene: Hayden Zaller" Featurette
-"Meet the Champion" Featurette
-"Behind the Game" Featurette
-"American Underdog: Behind the Story" Featurette
-Deleted Scenes with Optional Audio Commentary by Andrew Erwin
-Theatrical Trailer (on 4K and Blu-ray™ only)
Feature Run Time: 112 Minutes
The  American Underdog 4K Ultra HD Combo Pack, Blu-ray Combo Pack, and DVD will be available for the suggested retail price of $39.99, $39.99, and $29.96, respectively and is out February 22nd.
Facebook
||
Twitter
||
Site
Follow WOS:
@CinnyBBS
||
WOS on facebook
||
Pinterest
||
Instagram
Until next time,